Patsahan Taras
---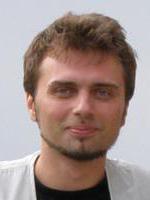 Department:
Department of Soft Matter Theory
Scientific interests:
Ionic liquids and solutions, nematic and associative fluids, water and aqueous solutions in the bulk and porous media, effects of confinement, theory and computer simulations
Recent papers:
[1] J. Ilnytskyi, T. Patsahan, O. Pizio, On the properties of the curcumin molecule in water. Exploration of the OPLS - United atom model by molecular dynamics computer simulation. – J. Mol. Liq. – 2016. – Vol. 223. – p. 707-715.
[2] Y.V. Kalyuzhnyi, M. Holovko, T. Patsahan, P.T. Cummings, Phase behavior and percolation properties of the patchy colloidal fluids in the random porous media. – J. Phys. Chem. Lett. – 2014. – Vol. 5. – p. 4260-4264.
[3] T. Patsahan, M. Holovko, W. Dong, Fluids in porous media: 3. Scaled particle theory. – J. Chem. Phys. – 2011. – Vol. 134. – id. 074503, 11p.
[4] J.M. Ilnytskyi, T. Patsahan, M. Holovko, P. Krouskop, M.P. Makowski, Morphological Changes in Block Copolymer Melts Due to a Variation of Intramolecular Branching. Dissipative Particles Dynamics Study. – Macromolecules. – 2008. – Vol. 41. – p. 9904-9913.
[5] T. Patsahan, M. Holovko, Molecular dynamics study of aqueous uranyl in hydrophilic mesoporous confinement: the case of slit-like pore in amorphous silica. – Condens. Matter Phys. – 2007. – Vol. 10. – p. 143 150.
e-mail:
tarpa

icmp.lviv.ua