Jaroslav Ilnytskyi
---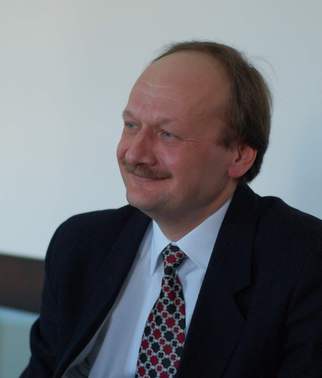 Department:
Department of Computer Simulations of Many-Particle Systems
Position:
Head of Department, Leading researcher
Scientific interests:
Liquid Crystals, polymers, self-assembly, phase transitions, computer simulations
Recent papers:
J.Ilnytskyi, S.Sokolowski, O.Pizio. "Nematic-isotropic transition in a lattice model with quenched disordered impurities. A Monte Carlo study". Phys.Rev.E, v.59, 4161 (1999).
J.Ilnytskyi, M.Wilson. "A domain decomposition molecular dynamics program for the simulation of flexible molecules with an arbitrary topology of Lennard-Jones and/or Gay-Berne sites", Comp.Phys.Comm., v.134, 23 (2001).
M.Wilson, J.Ilnytskyi, L.Stimson. "Computer simulations of a liquid crystalline dendrimer in liquid crystalline solvents". J.Chem.Phys., v.119, 3509 (2003).
J.Ilnytskyi, T.Patsahan, M.Holovko, P.Krouskop, M.Makowski. "Morphological changes in block copolymer melts due to a variation of intramolecular branching. Dissipative particles dynamics study". Macromol., v.41, 9904 (2008).
J.Ilnytskyi, D.Neher, M.Saphiannikova, M.R.Wilson, L.Stimson. "Molecular dynamics simulations of various branched polymeric liquid crystals". Mol.Cryst.Liq.Cryst., v.496, 186 (2008).
e-mail:
iln

icmp.lviv.ua