Yukhnovskii Ihor
---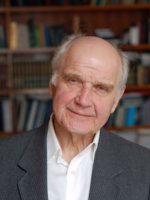 Position:
Honorary Director of the Institute
Title:
Real Member of Ukr. Nat. Acad. Sci.
Brief info:
Born on 1 September 1925 in Rivne region. He is Doctor of Sciences and the real member of Ukr. Nat. Acad. Sci. He was the member of Ukr. Parliament during four consecutive terms. Igor Yukhnovskii is rewarded with the N. N. Krylov Prize of Acad. of Sci. of Ukrainian SSR, awarded by the Orders of the Badge of Honour (1975), of the Red Banner of Labour (1985), of the Patriotic War of 1st class (1985). He got personal award from the President of Ukraine (1995), the Orders of Merit of 1st class (2000), of Prince Yaroslav the Wise of 5th (2002) and of 4th classes (2009). According to the Decree of the President of Ukraine the title "Hero of Ukraine" was conferred on Igor Yukhnovskii in 2005 with investiture of the Order of the State. He is founder of the Institute for Condensed Matter Physics.
e-mail:
yukhn

icmp.lviv.ua